schsymb.hpp File Reference
---
Detailed Description
Scheme symbols.

Defines the SchExpressionSymbol class, a smart pointer to it and the framework for labels provided by the library. These are the symbol QUOTE and the labels for (), T and #F.

Definition in file schsymb.hpp.

#include "../sexpress/gensref.hpp"
#include "../sexpress/sexpress.hpp"


Include dependency graph for schsymb.hpp:

This graph shows which files directly or indirectly include this file: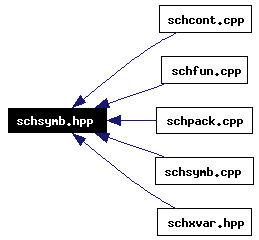 Go to the source code of this file.
---
Typedef Documentation
---
Variable Documentation
| | |
| --- | --- |
| | The global Scheme symbols and labels provided by the library. |
---
Generated on Tue Dec 18 00:40:18 2007 for InteLib by

1.4.1